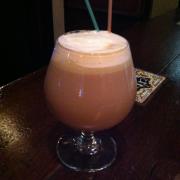 Mr. Toad features a bevy of Hot Drinks to keep you warm on a cold winter's night!  All are served with a dollop of our fresh homemade whipping cream.
Coffee Drinks
Brandy Mocha Almond (brandy, amaretto & chocolate).
Bailey's & Coffee (classic Bailey's Irish Cream).
Cafe Amore (Courvoisier & amaretto)
Cafe Cancun (Kapali, Irish cream & Sambuca with a sugared rim).
Cafe Tadpole (Kapali, Courvoisier & Irish cream)
Cafe Toad (Frangelico, Bacardi Coco & Irish cream)
Mr Toad's Irish Coffee ( made famous at Mr. Toad for more than 35 years)
Cafe Seattle (Vodka, Irish Cream & chocolate)
Chocolate Almond Joy (Godiva Dark, Amaretto with a sugared rim)
Coffee Nudge (Godiva, Kapali, Brandy)
Hot Irish Nut (Frangelico, Amaretto & Irish Cream)
Kioki Coffee (Brandy, Kapali, Creme de Cacao & a cherry)
Rick's Choco-Razz (Chateau Monet, Godiva & Chocolate)
Mr. Toad's Special Coffee (Our special 5 liquor blend, served in a large snifter & piled with our homemade whipping cream)
Hot Drinks without coffee
Hot Toddy (Bourbon or Brandt, Hot water, Lemon, Sugar)
Spiked Hot Tea (suggested spikes: Brandy, Blackberry brandy or Apricot brandy)
Hot Mudslide (Kapali, vodka, Irish cream in hot chocolate)
Bailey's & Hot Chocolate (Classic Bailey's Irish Cream in hot chocolate)
Chocolate Kiev (Stoli Vanil, amaretto in hot chocolate)
Peppermint Patty (Peppermint schnapps, Creme de cacao in hot chocolate)